Smart Pizza is a great opportunity to sell quality pizzas without the inconveniences associated with owning a brick and mortar restaurant. If you dream of earning a great income by having a pizzeria of your own but worry about large overhead costs, or currently own a pizzeria but are spending too much on supporting non-peak hours, then Smart Pizza is made for you!

> High Standards
Coming from a country where cooking is viewed as a highly regarded art form, the French engineers of Smart Pizza Vending Machines took great care in designing this gourmet tool with the highest standards in mind. The designers who manufactured the machines are experts in industrial automation who used hygienic materials and an optimized process that enables the pizzas to be delivered in less than 3 minutes. The Smart Pizza Vending Machines exceed industrial standards and allow for simple operation from anyone, anywhere. Are you looking for a Smart Pizza Machine in Alaska or Nevada? No worries, the cold box inside the machine is resistant to extreme temperatures and guarantees a respected cold chain no matter the weather.
The Smart Pizza Vending Machine is as robust as a machine you might find in a factory, built to last with a strong focus on quality and efficiency. With a minimum investment, the Smart Pizza generates sales 24 hours a day, 7 days a week and can be a profitable business venture that lasts a lifetime.
> Restaurant Vs. Machine
As a restaurant owner, you have to make sure the tables are set, the dining room is clean and your staff is ready to cook, serve and take care of payments and customers. As a Smart Pizza operator, your main concerns are the preparation of pizzas, restocking the Smart Pizza, and monitoring sales from anywhere you want.
Besides the difference in footprint, another significant difference between owning a brick and mortar restaurant and a Smart Pizza is the cost to rent, lease, and maintain. According to the Houston Chronicle, a restaurant's lease cost should total no more than 5 to 8 percent of the restaurant's total revenues. On that basis, a neighborhood restaurant with $800,000 in sales should expect to pay $40,000 to $64,000 a year. The Smart Pizza makes an average of $72,000 a year in sales, and the rent averages out to a total of $2,400 a year. In other words, owning 12 Smart Pizzas, the total average sales would be $864,000 and the total average rent $28,800. This would allow a restaurant owner to not only save a huge amount in labour, the owner would also put at least an extra $23,000 in their pocket. Taking into account that the average salary of a restaurant owner is $60,000 per year, it would be a huge win to own Smart Pizzas.

> A Crisp, pizzeria-like crust
Several reasons why the Smart Pizza's will always dispense pizzas as if they were freshly served at an authentic Italian pizzeria:
- The oven to give the pizzas a final cooking is similar to an oven used at a traditional pizzeria. This method is perfect to get a hot pizza, preserve the fresh toppings and provide a crispy crust.
- The extra grills in the Smart Pizza will make sure that the cheese, bacon or other toppings are cooked to perfection.
- Thanks to the unique baking method and API Tech's technology, the system can handle 200 different types of pizza recipes. All settings such as the temperature, cooking time, and grill can be set to guarantee each pizza recipe is baked in perfect conditions.
> Why Smart?
The name "Smart Pizza" is no coincidence. The Smart feature means that everything besides the restocking can be managed remotely. Thanks to API Tech's Remote Management System, owners can monitor their Smart Pizzas from a smartphone, tablet or computer.
> What exactly can be monitored and managed with the Remote Management System?
> Sales
> Pricing
> Promotions
> Cooking time
> Temperature
> Cold box temperature
> Grill activation
> Pizza descriptions and photos
In addition, the operator will receive an alert if:
> A problem is detected
> Stock is low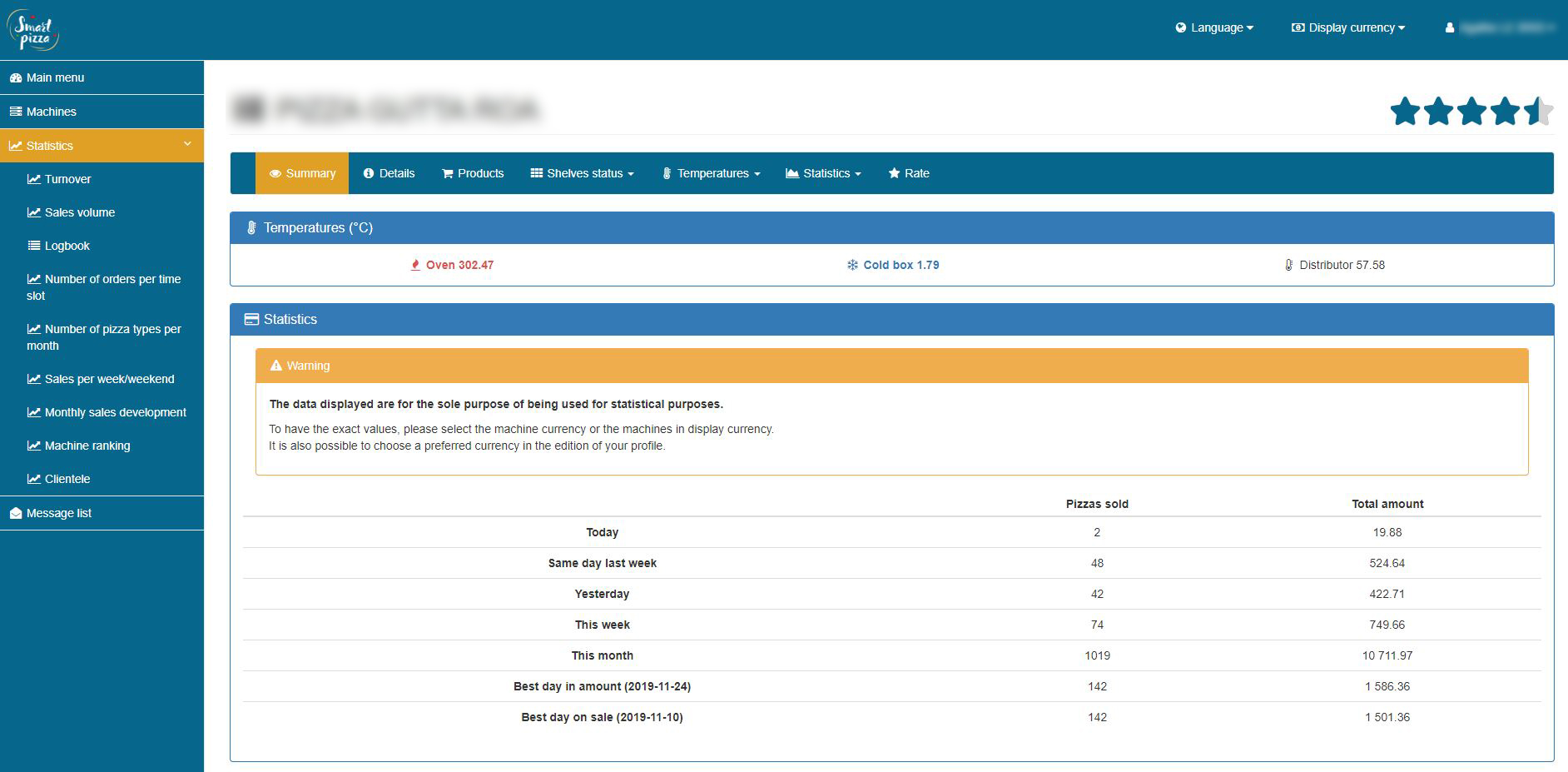 Sources: